Key Person Protection
What is Key Person Protection?
Key Person Protection is a policy that can protect your business against the financial impact caused by the death of disability of a key employee.
What effect would the death or long term disability of a key employee have on your business?
It is standard operating procedure for businesses to insure their property and profits but many neglect their most valuable assets: the men and women whose talent, experience and judgement contribute substantially to the financial health of the organisation. The probability of such a loss is greater than most other perils. For example, the chance of a 45 year old key employee dying is estimated to be 14 times greater than a fire loss.
What are the changes of a business partner dying or become disabled through illness or injury?
This chart shows the probability of at least one partner dying before age 65.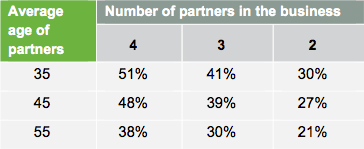 This chart shows the probability of at least one partner becoming disabled for six months or longer, but none dying before age 65.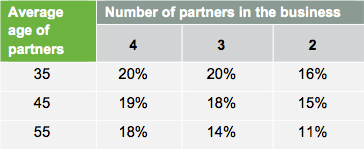 Source: Mortality: NZ Life Tables, Disability: Davies Financial and Actuarial (2004)
What is a Key Person?
A key person may not only be the business owner but also an employee or contractor whose skills and expertise are essential to the functioning and profitability of the business.
For example, it could include:
The "head" of the business who is closely linked with its image and success in the minds of the general public, suppliers or distributors.
People who bring specialist skills or knowledge to the business.
A sales person whose contacts and methods provide a competitive edge.
A working director who draws only a moderate salary in relation to their output.
Consider the following:
What are the risks to your business if a key person was unable to work due to disability or death?
Loss of profitability normally generated by the key person.
The additional costs and disruptive downtime incurred in securing and integrating a suitable replacement to the business.
Important customers and/or valuable contracts that may be lost or unable to be completed.
Loss of market share as competitors take advantage of the situation.
Key Person Protection will inject cash into the business to secure a suitable replacement, replace lost profits and reassure customers and creditors.
Adequate Key Person Protection will provide the availability of cash on the death or disability of the key person to enable the business to:
Meet ongoing overheads
Secure and train a replacement  Reduce external debt
Preserve credit lines
Retain staff
Provide financial help to the continuing shareholders/partners, reducing stress from the immediate loss of income.
Mitigate potential family/business partner disputes on whether to retain, cash up, change control of the business etc.
Information on this page extracted from AIA Business Product Guide.
DISCLAIMER: AIA New Zealand has made all reasonable efforts to ensure that the information in this guide is correct as at the date of printing. This guide is provided by way of general information only and is not to be relied upon as a substitute for obtaining professional advice on the specific circumstances of the individual or business.