Major Trauma Insurance
What is Major Trauma Insurance?
Trauma Insurance pays you a lump sum in the event that you suffer a major illness. This money could fund medical treatment, replace lost income, or simply provide financial certainty for your family whilst you're too sick to work. The choice is yours.
By insuring yourself in case of serious illness you can help protect your asset base and your income. The last thing you need on top of illness or injury is the added stress of the loss of assets, like your home.
Trauma or critical illness cover is one of the life insurance industry's best kept secrets. That's because it is insurance for the living and pays cash so if the insured person suffers a serious illness or injury covered by the policy they can carry on with their life.
Trauma is still a relatively new form of insurance.  Interestingly, it was developed as recently as 1984 by Marius Barnard, brother of the South African heart transplant pioneer Dr Christian Barnard. The catalyst was seeing the financial cost his brother's patients and their families incurred by surviving serious heart conditions.
The concept behind trauma cover is excellent. It pays a lump sum benefit when the policyholder is struck by some of the most common and probably most-feared illnesses or afflictions, such as;  cancer, coronary disease, heart attack, paralysis, organ failure, Parkinson's and stroke. Its main value is that it helps remove some of the main barriers to recovery – stress and not being able to afford the treatment you want, when and how you want it.
People are now living longer and increasingly surviving illnesses and conditions which were once more likely to be fatal. While dying prematurely is still the risk most people insure against, the greater risk to a family's financial security maybe being incapacitated and unable to work and running up some hefty medical bills. Surviving a critical condition can leave people, and the families who depend on them, financially crippled. One of the distinctive features of trauma insurance is that it pays out on diagnosis rather than the outcome.  It offers a solution to cover the financial consequences of an event occurring.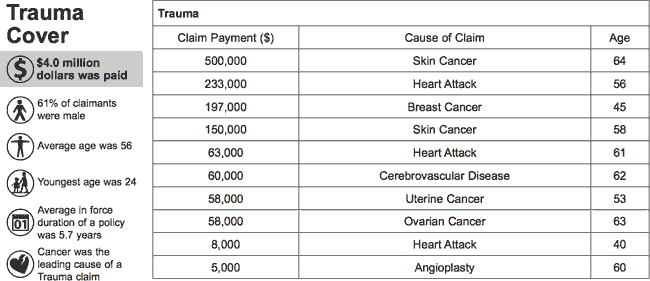 Source: American International Assurance – November 2009 to December 2010 Payouts
DISCLAIMER: These explanations and comments are general in nature only. You must refer to the appropriate policy document wordings for full and complete understanding.